The newly sworn-in commissioner for Youth and Social Development, Mr. Mobolaji Ogunlende has stated that stakeholders in youth development have a significant role to play in building people's confidence in government.
Stating this at the Stakeholders' Meeting held with the rank and file in the Ministry at Alausa, Ikeja, Mobolaji revealed that the inclusive mandate of the Ministry is to enhance the trust of people in the administration of Governor Babajide Sanwo-olu
According to him, If Lagosians must believe in the administration of Governor Babajide Olusola Sanwo-Olu, everyone charged with the responsibility of implementing youth-oriented policies and initiatives must be committed to their duties.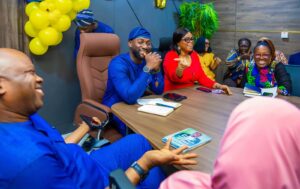 "Many Lagosians particularly the youth are looking up to our Ministry for social support structure.
"Our initiatives and programmes have a direct impact in the operation of institutions across the state. We cannot afford to be complacent or rest on our oars," he stated.
He pointed out that the has directed all Ministries, Agencies and Department to hit the ground running and execute programmes that will improve the life of the people.
"Mr Governor has just four years to deliver on his electoral promises. As a result, we must maximize the time at our disposal to restore the people's confidence in government.
"This can only happen if everyone of us contribute their quota by discharging their duties effectively and efficiently" the Commissioner added.
Speaking further, Ogunlende encouraged members of staff to see their role as social workers whose humanitarian services can only be well rewarded by God, adding that they should see themselves as being fortunate to be among the few chosen from the million of Lagosians to serve the masses.
While urging them to maintain cordial relationships and operate an open door policy, he confirmed that the Ministry must work seamlessly to achieve its mandate.
"Let's be driven by passion, respect one another,have an open mind that will help them to be objective in their analysis of issues and passing of judgement in their day to day activities.
On her part, the Permanent Secretary of the Ministry, Pharm (Mrs) Toyin Oke-Osanyintolu said the Ministry has more responsibility now that the T.H.E.M.E.S Plus Agenda has broadened the mandate of the Ministry.
"This implies that we are going to have more programmes to engage the youths in the state.
"This engagement will cover both those in the formal and informal settings moving forward," she opined.
The Permanent Secretary further emphasized that the citizens, including the elderly, children, youth and the physically challenged are relying on the Ministry to roll out social support programmes that enhance their well-being.   (vitalnewsngr.com)