The Association of Professional Women Engineers in Nigeria (APWEN) has urged the Federal Government to implement the policy on 30 per cent affirmation for women to occupy positions of authority.
The President of the association, Dr Elizabeth Eterigho, made the call at a news conference to announce their forthcoming International Conference and Exhibition as well as their 40th Anniversary, with the theme "Our voice, our strength and our future".
Eterigho while urging the Federal Government to implement the policy on 30 per cent affirmation tasked women to make themselves relevant in management and administrative positions.
"We have started this fight and that was what made COREN approve a position of a woman in NSE today and in everything you do now there must be 30 per cent female representation.
"We are on it, not just in awarding contracts alone but even in the office when it comes to administration.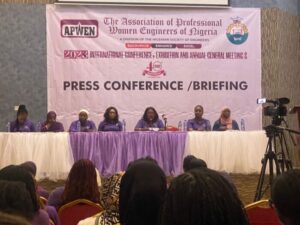 "We carried out a study of database of female engineers in managerial positions at engineering firms and ministries and because of that, we now have a policy in place that says 30 per cent of female engineers must be at the helm of affairs in administration.
"For us to sustain what we are doing, you must obey that 30 per cent representation policy," she said.
The APWEN president noted that if a woman got into a position where she would be awarding contracts, she would give it to a qualified fellow knowing that the job would be delivered not because of kickback.
"Of course engineering is a male dominated field in the whole country; in NSE membership list of over twenty thousand, women are just about four thousand.
"We know there should be more females and we are bringing them in.
"Things are improving compared to before; it's not as bad as it used to be. Women should speak with one voice so that we can pull through and get to where we are supposed to be.
"The government must consciously put policies in place to help women discharge their vision mission and to be accomplished not only APWEN, women generally.
"The government must put things in place so that their voice must be heard and not being suppressed since we are all stakeholders," Eterigho said.
She said that funding was a major setback the activities of the group which centred majorly on education.
"We have a lot of programmes, we would like to have the support of government; look at the inadequate amount that is being allocated to the Ministry of Education.
"It cannot cater for them, the organisation within this my two years have been able to get grants from outside the country and they are sponsoring indigent local pupils.
"We have decided to put in for them a Junior Science Kits (JSK) where they can begin to experience and handle equipment for science before they get to secondary school, so that they can begin to think of their future at that level," she said.
She noted that women should take their pride of place in engineering which had become the bedrock of innovation and technology.
"Our voices are not mere utterances but they are instruments of change, catalysts for progress and agents of empowerment.
"When we harness the full potential of our voice, we unlock the wellspring of strength that propels us to a future of boundless opportunities for development and professional progress.
"Therefore, my expectation is that we will have a strategic plan for the next ten years, and as that is getting closer we put another one for the next ten years till the next forty years, by then we will have been able to affect people," Eterigho said.
Aside marking their anniversary, the conference scheduled to begin on Sept. 20 is expected to bring women together to celebrate the power of their voice, the strength within them, and the limitless potential of their future in the world of engineering. (NAN/vitalnewsngr.com)