Edidem Ekpo Okon Abasi Otu, has been re-elected and proclaimed again as the Obong of Calabar.
He was re-elected and proclaimed late Wednesday, by the Etubom Conclave.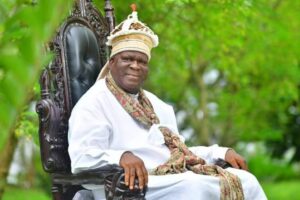 His re-election and proclamation was coming six days after he was removed by the Supreme Court in a unanimous judgment read by Justice Amina Adamu Augie.
A statement signed by 13 members of the Etubom Conclaves and read to newsmen by the Chairman, His Royal Majesty, Etubom Ntiero Efiwwat, at the palace of the Obong on Thursday confirmed the development.
The Supreme Court of Nigeria had in a 42-page judgment on January 13, confirmed that the Obong of Calabar, Edidem Ekpo Okon Abasi Otu V, remained sacked as the Obong.
The judgment, was signed by Justice Amina Adamu Augie.
A copy of the judgment sighted by newsmen in Calabar, on Thursday indicated that the Appellant, Etubom Anthony Ani, stands a chance to contest in a fresh election but may be hindered by the fact that he was not duly capped and recognised by the Obong in Council.
She, however, confirmed that the deposed Obong, though ran foul of the selection process, could still contest in a fresh process in accordance with the law of the traditional institution of the palace.
Since the judgment, there have been claims that the Supreme Court reaffirmed Otu as Obong but to put the records straight, the Supreme Court, in its judgment, rejected such claims, saying the Obong remained removed.
The judgment reads: "The Court of Appeal may have found that first respondent (Abasi Otu) qualified to contest for the stool. It, however, held that from the only evidence available to the High Court, the only impression a reasonable man would have of the process is that appellants of the second set of appeal (Etubom Traditional Council) used their positions in Western Council unfairly to the disadvantage of first respondent (Ani) in breach of the pillar of natural justice that a person should not be a judge in his own cause.
"Since the evidence of the second appellant (Etubom Okon Asuquo of the Etubom Traditional council) was that the first screening of first respondent (Ani) was cancelled, and he was not notified of the cancellation and afforded the opportunity to be screened again when another screening exercise was conducted by second appellant on another date for other candidates, first respondent was undoubtedly denied the right to be heard in the selection process that led to proclamation of first appellant as the Obong."
It ruled that the trial court and Court of Appeal were ad idem that the way and manner the first respondent (Abasi Otu) was selected and proclaimed the Obong of Calabar was not in accordance with the principles of natural justice.
(Guardian)