Ilorin – The Wellbeing Foundation Africa (WBFA) in partnership with General Electric (GE), on Tuesday in Ilorin flagged off a two-day training programme for 400 nurses and midwives on the use of V-Scan Portable Hand-held Ultrasound machines.
The participating nurses and midwives were drawn from Kwara and Osun States.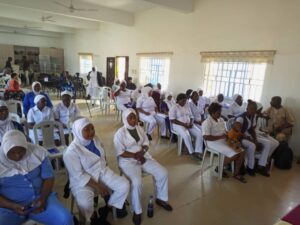 They are being trained with eight ultrasound scan machines donated by the Federal Capital Territory (FCT), Lagos, Osun and Kwara States.
Speaking at the opening of the two-day training programme, Senior programme Lead of WBFA , Dr. Ayomide Tonade , said that it is the first time midwives and nurses are being trained on use of the ultrasound scan machines in the country.
"Doctors have, most of the time, been the ones to do the ultrasound scan.
"There you experience long queues in hospitals, patients being delayed in getting care while some don't get the services due to remote areas they live.
"What we have achieved now is to include nurses and midwives and train them on how to do basic obstetrics ultrasound scan by themselves before referring to medical doctors for extra care," She said.
She expressed the hope that the efforts would lead to a significant improvement in maternal and fetal outcomes in Nigeria.
According to Tonade, the foundation will continue to work towards empowering the nation's healthcare workers to provide the best possible care.
Also speaking, founder and president of the WBFA, Mrs. Toyin Ojora Saraki, emphasised roles of midwives and nurses in quality healthcare delivery.
She said that midwives play a crucial role in ensuring safe deliveries and improving maternal and child health outcomes.
Mrs. Saraki, who spoke through Dr. Ayomide Tonade, said that the training programme was the "first of its kind in Nigeria and it is an important step towards improving maternal and child health outcomes.
"The Wellbeing Foundation Africa recognizes roles of midwives, and as part of our commitment to achieving the Sustainable Development Goals, we have made it our goal to equip midwives with the necessary skills and knowledge to effectively provide high-quality obstetrics care.
"To this end, we have organized this training programme to improve maternal and fetal outcomes by equipping midwives with the knowledge and skills to effectively use the V-Scan portable hand-held ultrasound machine.
"Three weeks ago, we held the first-ever training programme for midwives on the use of the V-Scan portable hand-held ultrasound machine in Abuja.
"Last week, we held the same training in Lagos. The training programme was a resounding success, attended by midwives from various healthcare facilities.
"The midwives were provided both theoretical and practical sessions on the use of the V-Scan machine, covering the basic principles of ultrasound technology, image acquisition, interpretation, and reporting.
"The practical sessions provided hands-on training on the use of the V-Scan machine, including how to perform basic obstetric ultrasound scans.
"Today, we are in Ilorin, continuing our efforts to empower midwives with the necessary knowledge and skills to provide high-quality obstetric care."
(vitalnewsngr.com)