The Nigeria Union of Journalists ( NUJ) on Thursday called on the police to unravel the mystery surrounding the gruesome murder of one of its members in Gusau, Zamfara State , Hamisu Danjibga.
Dr Chris Isiguzo,  National President of NUJ made the call in a statement .
Hamisu was until his death, a Correspondent of Voice of Nigeria in Zamfara State.
He went missing last Sunday when some unidentified persons abducted him from his house in Gusau.
His lifeless body was discovered three days later, on Wednesday 20th September, 2023 in a soakaway behind his house.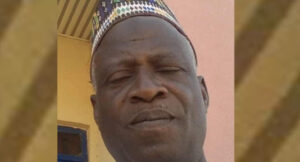 The stench of his decomposing body attracted pupils and teachers from a nearby lslamiya School who subsequently raised alarm.
"We suspect that the death of Hamisu is a clear act of intimidation designed to force journalists into self-censorship and eventually silence them.
"Journalists should not be made to work with fear that they could be targetted for their work.
"We call on the Authorities to investigate this incident, credibly establish the facts, and ensure accountability for those who carried out the dastardly act.
"Journalists need safety guarantees so that they can work freely and safely," Isiguzo said.
The Zamfara State council of the NUJ has also condemned the murder of Hamisu Danjibga by yet to be identified.
The council in a statement in Gusau, called on security agencies to fish out the killers and bring perpetrators of the heinous crime to justice.
The statement was signed by the state Secretary of NUJ, Ibrahim Ahmad Gada.
"The NUJ regret to announce the death of Hamisu Danjibga, a reporter with Voice of Nigeria (VON) whose body was found in a soakaway behind his house three days after missing," Gada said.
He explained that the discovery of the deceased corpse followed an unpleasant odour perceived from a soakaway by pupils of an Islamic school situated directly behind Danjibga's home in the evening of Wednesday 20th September, 2023 and drew the attention of their teachers.
Ibrahim said, after residents of the area removed the slabs used to cover the soakaway, a dead body was found which family and neighborhood confirmed to be that of Danjibga.
"Immediately, necessary arrangements were made for funeral and burial in accordance with the Islamic rites," he said.
He expressed the Union's heartfelt condolences to his family, the Voice of Nigeria, journalists, Zamfara state government and people of the state for the monumental loss.
According him, the council, while expressing deep concern over the nature of Danjibga's death, appealed to security agencies to as a matter of urgency thoroughly investigate the matter and bring the perpetrators of the dastardly act to justice.(vitalnewsngr.com)