Abuja – The Nigeria Labour Congress (NLC) and the Trade Union Congress (TUC) has called off the nationwide strike scheduled to commence on Wednesday, June 7.
The NLC and TUC announced the call off of the strike in a joint statement with the Federal Government in Abuja late Monday.
They said the strike was being called off to allow for more consultations.
This followed a successful negotiation between the organised labour and representatives of the Federal Government at a meeting in Abuja on Monday.
The statement was signed by Comrade Joe Ajaero, NLC President, Comrade Emmanuel Ugboaja , General Secretary, NLC, Engr Festus Osifo and Comrade Nuhu Toro, President and General Secretary of TUC respectively.
The Permanent Secretary in the Federal Ministry of Labour and Employment, Ms Kachollom S. Daju and the Speaker of the House of Representatives, Hon. Femi Gbajabiamila signed the joint statement on behalf of the Federal Government.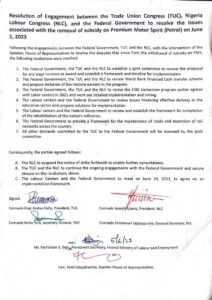 Their decision to call of the strike followed a successful negotiation with the Federal Government on the need to increase workers salary and repair the nation's moribund four refineries as a result of the removal of the fuel subsidy.
The labour centres, however, said that they will continue to engage with the Federal Government and secure closure on all the resolutions reached at the meeting.
The statement said the leaderships of the NLC and TUC will meet again on June 19 to agree on an implementation framework of the resolutions. (vitalnewsngr.com)