The Kogi State chapter of the Miyetti Allah Cattle Breeders Association of Nigeria ( MACBAN) on Saturday, declared its support for the All Progressives Congress (APC) and its candidate in the November 11 governorship election in the state, Ahmed Usman Ododo.
The State Executives of MACBAN, along with some of its national leaders announced the decision during a visit to Governor Yahaya Bello at the Government House in Lokoja.
The MACBAN executives were accompanied by heads of Fulanis in the 21 local government areas of Kogi State,
They were received by Governor Yahaya Bello at the Glass House, Government House, Lokoja.
The Chairman of MACBAN in Kogi State, Umar Yusuf Damina, commended Governor Bello for his numerous achievements within the state and beyond.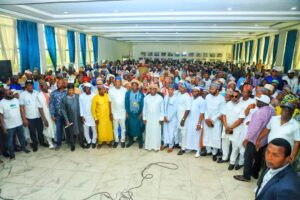 He specifically noted that the firm decision of MACBAN to support the APC was a testament to the governor's unwavering commitment to the well-being of members and his efforts in providing security for all citizens and residents of Kogi State.
The MACBAN chairman expressed the belief that the APC candidate, Ododo, would continue to build upon the solid foundation already laid by the governor.
While receiving the MACBAN members, Governor Yahaya Bello welcomed their endorsement of APC and Ododo for the coming November 11 election.
The governor, deeply moved by this display of unity, affirmed his administration's stance against any form of discrimination against the Fulanis in Kogi State, particularly those engaged in lawful businesses both within Kogi and across the country.
He lauded MACBAN for its valuable contributions in sharing intelligence information and gathering , which had aided conventional security forces in identifying and eliminating criminal elements among the Fulani community in the state.
Bello expressed his conviction that the Fulanis, known for their unwavering commitment to their word, would undoubtedly throw their support behind the APC during the November 11 polls.
He emphasised the government's resolute stance against the promotion of ethnicity and tribalism in the state.
Furthermore, he urged law-abiding Fulanis residing in the state to remain vigilant and help identify criminal elements among them.
Bello said by this, they will be contributing to the overall peace and safety of all residents.
(vitalnewsngr.com)