The Federal Road Safety Corps ( FRSC) has confirmed the death of eight persons in the fuel tanker explosion that occurred on Benin – Sapele highway, Delta State, in the early hours of Sunday, October 1, 2023.
The Corps in a statement Sunday night said that seven other persons were critically injured in the accident, which it said involved 15 people.
According to FRSC, the eight dead victims were burn beyond recognition while the injured victims sustained varying degrees of burns.
Bisi Kazeem , Assistant Corps Marshal
Corps Public Education Officer, signed the statement.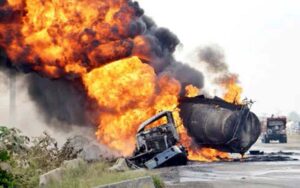 Kazeem said the fatal crash occured at Ologbo Bridge, on the Benin/Sapele expressway, Delta State on 1 October, 2023 at 0100HRS.
" The dual crash involved 15 different categories of vehicles. The affected vehicles are; 1 Toyota Hiace Bus, 2 FORD Buses, 1 Volkswagen Passat passat, 2 J5 Peugeot buses, 1 Daylong Motorcycle and 8 Tankers.
"From the report gotten from the FRSC rescue team, A total of 15 people all male adults were involved. Out of this number, 07 people got injured, while 08 victims were burnt beyond recognition.
"The truck ladened with Petroleum Motor Spirit (PMS), coming from Warri, Delta State fell on the highway and spilled the PMS product on the road, thereby leading to an explosion that gutted the aforementioned number of vehicles and the 15 male victims," the statement said.
Arising from this crash , the Corps Marshal, FRSC, Mr Dauda Biu, has called on owners and operators of tankers to comply with all safety standards set by the government on operation of that category of vehicle on Nigerian roads.
Biu also directed Commanding Officers to ensure that tankers that do not meet safety standards are not allowed to ply the highways.
Biu also called on fleet operators, especially owners of tankers conveying inflammable products to ensure compliance with minimum safety standards by installing safety valves (Anti spill) in their vehicles.
"This is to eradicate all incidences of mishap resulting from lack of safety valves in tankers," the statement quoted Biu as saying.  (vitalnewsngr.com)