By Chiazo Ogbolu
Lagos – The Nigeria Customs Service (NCS) Murtala Muhammed Airport Command (MMAC) has intercepted hard drugs, military and police hardware at the cargo section of the domestic wing of the airport.
The Customs Area Controller of the Command, Comptroller Sambo Dangaladima, said this at a media conference on Tuesday in Lagos.
Dangaladima said the drugs consisted of 162 cartons of banned Tramadol hydrochloride 225 and 250mg, military and police hardware, which were intercepted at the Skyway Aviation Handling Company (SAHCO).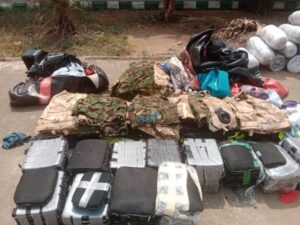 He said the drugs originated from India and Pakistan and were routed through Addis-Ababa to Lagos, had an estimated Duty Paid Value (DPV) of N13.8 billion.
He noted that the drugs included 92,387 packs, 929,970 sachets and 9,299,700 tablets.
"These milligrams (225&250mg) are above allowable thresholds as contained in the extant laws.
"In summary we have a total of 162 cartons, 92,387 packs, 929,970 sachets, 9,299,700 tablets of Tramadol Hydrochloride with a DPV of N13.8 billion.
"The drugs will be handed over to the National Drug Law Enforcement Agency (NDLEA) by this Command.
"We are also handing over the suspect by name, Samson Olayiwan Tantolohun, of 29 Okejide Street, Ejigbo, Lagos," he said.
He said the command intercepted and detained some military hardware and uniforms from two AWBs,118-11860343/3 and118-18860332/5.
He added that the hardware were 309 pieces of military helmets; 106 pieces of Military Armless Jackets, 352 pieces of ballistic body armoured pads and 119 pieces of Police Badges.
"Others are five pieces of bullet proof jackets; 33 pieces of body side ballistic pads and 105 pieces of ballistic chest plates.
"The suspects connected to this importation could not provide the end user certificate, which is the lawful prerequisite for such importation.
"We have detained the suspects, Mr Olaolu Marquis, and the military wares while investigation is ongoing.
"The service is empowered by section 46B of the Customs Excise and Management Act to perform this act," he said.
Dangaladima said the command was mindful that 2023 being an election year in Nigeria, the traffic of hard drugs that induced youths to do extraordinary things (when taken) was bound to increase.
"I can assure the unscrupulous importers that MMAC is the most dangerous route for their illicit trade, because we are always here to catch them and ensure that they face the wrath of the law," he said.
He stated that the command generated N69.77 billion between January to December, 2022.
"The Command has done well in the area of revenue generation for the past year. I make bold to say that this Area Command never had it so good.
"Between January to December, 2022, the command generated a total of N69.77 billion, against the N55.67 billion generated in the year 2021.
"This shows an overwhelming increase of N14.1 billion, representing 25.34 per cent.
"The 2022 yearly target was N66.9 billion but the command surpassed the target with N2.83 billion, representing 4.24 per cent increase," he said. (NAN/vitalnewsngr.com)