By Bridget Ikyado
Abuja – The President of Christian Association of Nigeria (CAN), Archbishop Daniel Okoh, has frowned at the inadequacy of healthcare infrastructure for elderly across the country.
Okoh who spoke on Thursday in Abuja also decried the general poor state of healthcare service delivery in the country.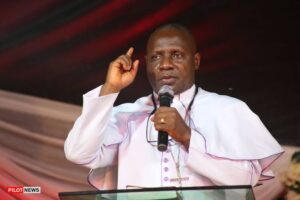 The CAN President was speaking at a service organised in honour of the General Secretary of CAN, Mr Joseph Daramola, who retires on May 31.
The archhbishop described Daramola as a man who loved CAN and also loved his job as general secretary.
"Growing old is not a sin, growing old is part of the grace of God that we enjoy, people should be looking forward to becoming senior citizens so that they will be able to enjoy the privileges therein.
"In many countries, when people get old, they do not worry too much about what they will eat, what they will put on themselves, how they will walk themselves because these have been taken care of.
"Our health infrastructure in Nigeria worries us a lot, the older you become, the more medical attention you require.
"People who have money could afford to travel abroad to get medical attention, but I can tell you that in the villages where we tend to have a more aged population, medical infrastructure is zero," he said.
He charged Daramola to find time to rest at least for the next three months, stating that he was now a senior citizen.
Okoh prayed God to provide and bless Daramola far beyond his imagination, saying that though the health care system was failing, the healing power of Lord Jesus would always continue to sustain his health that he might not even need the hospital.
The Bishop Emeritus of Abuja Archdiocese, John Cardinal Onaiyekan described the outgoing CAN general secretary as a good Christian.
"Daramola is a very committed Catholic and because of that, he is a very good christian," Onaiyekan said.
Addressing newsmen on the sideline of the event, Daramola said he was humbled by what CAN did for him.
"This is not the first time I am retiring, I retired from the Federal Government before as Director of Investigation.
He recalled that he began his career as a clerical assistant and vowed not to leave service as a junior officer but to the peak.
He said his retirement was not the end of his life career, saying that he would continue to serve Nigeria in another position.
"They said I have served CAN faithfully, but I never saw what I have done, and I am very humbled by what CAN has done for me.
"I was just doing my work, even the Federal Government noticed it, they have been eulogising me.
"I thank almighty God that any position you are put in life, do it consciously and more faithful," he said. (NAN/vitalnewsngr.com)