By Bridget Ikyado
Abuja – The Coalition of All Progressives Congress (APC) Support Groups has conferred an award of excellence on Mr Adebanji Jimoh, for his contributions to the party's success in the 2023 general elections.
The group also appointed Jimoh as its first Patron from the North Central.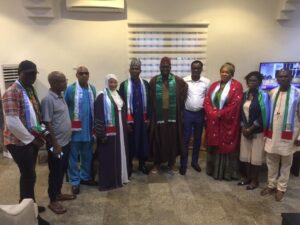 The award/installation ceremony was held in Abuja on Friday
Speaking at the ceremony, the National Chairman of the group, Mr Sadiq Jikta said that the group had monitored Jimoh's contributions to the party over time.
He said though, a lot of people and factors worked against the party's presidential candidate, Sen. Bola Tinubu, others like Jimoh stood firm to deliver the candidate as the President-elect.
Jikta said that just like the support groups, Jimoh did not only spend his time but brought his resources to support the Tinubu project.
"You came up with brilliant and creative techniques to brand the candidate and today, we all emerged winners.
"Today, we have decided to honour and to confer you as the first patron from the North-Central.
"We will promote and project you within and outside the party ahead of 2027 as the Hope of the Populace," he said.
Jimoh , who was an aspirant in the just concluded Kogi APC governorship Primaries expressed delight over the gesture shown him.
He said that Nigeria and indeed Africa is not where it should be, saying that there is a lot to be done.
The awardee who described himself as a loyal party man said that he had known Tinubu since 2007 when he started politics.
According to him, the record of achievements and his turn around ability is what made Tinubu attractive to him.
"A lot came against him, I felt he was being projected in an unfair manner, especially on the Muslim-Muslim ticket.
"So , I engineered ethic and religious leaders to create a forum to allow Tinubu to engage the leaders and dowse the tension; people saw and understood the intent.
"Today, I congratulate all of us, our party and Tinubu as he pilots the affairs of the country in the next four to eight years," he said. (vitalnewsngr.com)