The United Nations Children's Fund (UNICEF), says about 4.3 million people in Oyo State still practice open defecation, while 5.6 million other people lack decent toilets.
UNICEF Lagos Field Officer, Wash Specialist, Mr Monday Johnson, disclosed this while speaking at the 2023 World Toilet Day Celebration in Ibadan on Monday.
He said 83 per cent of motor parks and markets in the State also lack toilet facilities, despite open defecation's effect on health, education, nutrition, and sometimes exacerbating poverty.
Johnson called on the State government to fast-track its effort to meet its target of ending open defecation by 2028.
He said UNICEF had supported two local governments in ending open defecation, but nothing happened.
The UNICEF Officer said : "And it is time for the state to tackle the problem in the remaining 31 local governments.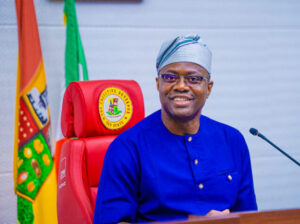 "UNICEF has only supported starting the programme in 2 LGAs, which means that 31 LGAs are still there with nothing happening.
"Now, it is time for Oyo State to pick up. Oyo State Rural Water Supply and Sanitation Agency has worked with UNICEF for the past 2 years; they now have the capacity.
"The Ministry of Environment is now coming in, and I am seeing that enthusiasm in the Commissioner, and everyone that is related to hygiene and sanitation should now come in to do something that will change the situation in Oyo.
"The open defection road map was to start in 2022 and end in 2028; Oyo State has not started, and almost 2 years are lost now.
"Oyo State only has between now and 2028 to meet its target. So we need to work almost six times faster than we are now to be able to meet the target."
Johnson declared that one in four Nigerians still defecate in the open and that Nigeria is off track in meeting the Sustainable Development Goals, requiring that something be done to change the narrative.
Meanwhile, the wife of Oyo governor, Mrs Makinde, said women and girls often bear the disproportionate burden of inadequate sanitation and expressed her commitment to fostering dialogue, awareness, and action around sanitation as well.
She called for the breaking of all barriers that impede progress towards universal access to toilet facilities and for Nigerians to be champions for the cause of the provision of toilets in a bid to ensure that no one is left behind without a dignified toilet facility. (Tribune /vitalnewsngr.com)