Lokoja – Ahead of the 2023 census exercise, the National Population Commission (NPC) has administered oath of secrecy on 1,057 Specialised Workforce (SWF), facilitators, trainers and officials that will participate in the exercise in Kogi State.
Out of the figure, 724 are Falicitator Trainees, 254
SWFs, 50 Trainers, 26 Data Quality Managers, the State Director, the State Training Coordinator and the State Field Coordinator respectively.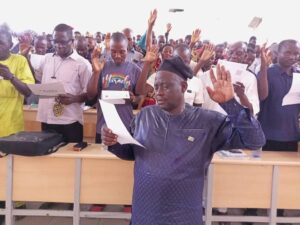 Magistrate Abubakar Saiki, administered the oath on them at a brief ceremony held at the auditorium of the Federal University Lokoja (FUL).
Addressing the Participants, Prof. Habibat Isa-Jimoh, the Kogi NPC Federal Commissioner, reminded them of the essence of the of oath taking , urging them to remain secretive and faithful to the cause of census.
Isa-Jimoh urged them to ensure that 'every resident of Kogi State is counted irrespective of age and location within the state.
"This is a digital and technology driven census that is so unique and different from what it was in the past. So , you must ensure everyone is counted and captured.
"The aged great grand fathers and mothers, no matter their frailty, and even a day old child, must be counted and captured.
"As enumerators and officials, you must be sure of the figure you have in a particular location before entering it in the digital machine.
"This is because whatever information entered in the machine can't be altered anymore, " he warned.
The federal commissioner warned them against sharp practices during the exercise, more so, that they would be monitored by teams of supervisors, who in turn are being monitored by commission's directors and quality assurance officers.
He further said, "any mistake you make will be corrected and remember, you can't cheat anybody just as you can't be cheated, so be sincere and truthful with your work."
The commissioner admonished residents of Kogi to ensure that they are counted because "if one person was not counted it means the census is not complete or correct."
"It's our mandate to ensure that everybody is counted in Kogi to qualify the people of the state for any resource/benefit that will come from the centre – Federal government, " Isa-Jimoh said.(NAN/vitalnewsngr.com)