Lokoja – The remains of late Mrs Zainab Adeiza Momoh Jimoh,wife of Chairman of the Kogi State council of the Nigeria Union Of Journalists ( NUJ) have been laid to rest according to Islamic rites in Lokoja.
Mrs Zainab Adeiza Momoh Jimoh was buried at Unguwan Kura Muslim Cemetery, Lokoja after a Janazah prayer conducted by the Chief Imam of Lokoja, Sheikh Muhammad Aminu Sha'aban.
The late Zainab, was until her death, the Proprietor of ZA'AD ACADEMY, New Layout, Lokoja.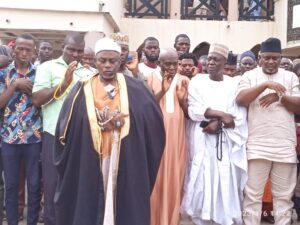 She died in the early hours of Friday in Abuja, at the age of 46.
The funeral prayer was attended by journalists, Islamic clerics, friends and sympathisers.
Meanwhile, the
Speaker of the Kogi State House of Assembly, Hon. Kolawole Matthew, has commiserated with the Kogi State NUJ Chairman, Comrade Adeiza Momoh Jimoh over the death of his wife, Zainab.
In a condolence message signed by his Chief Press Secretary, Femi Olugbemi, the Speaker said "it is devastating and sad for someone to lose one of his trusted hands, especially a beloved wife who have been so supportive."
He prayed that God comfort him, the children and the entire family.
" It is on this note, that Rt. Hon. Matthew O. Kolawole on behalf of his family, the people of Kabba/Bunu State Constituency, members, management and staff of the State Assembly wish to commiserate with Comrade Adeiza Momoh Jimoh and his entire family on the death of his beloved wife, Mrs Zainab Adeiza who died at age 46," the statement said.
The state council of the NUJ also in a condolence message expressed shock
over the sudden death of wife of its Chairman, Mrs Zainab Adeiza Momoh Jimoh.
The message signed by Alhaji Ademu , Secretary and Comrade Samuel Atuluku , Financial Secretary respectively said her death came at a time when she was most needed both in the family and the Council.
"We are therefore, as the immediate family of the pen profession, hereby, console our Chairman, Comrade Adeiza Momoh Jimoh on the painful loss of his wife.
"It is true that death is a necessary end for all mortals, this is why we will urge Alhaji Adeiza to be consoled by the fact that life itself is temporal.
"On behalf of the State Council, SEC and Chapels, We sympathize with the Chairman and the immediate family members, over the death of wife of number one journalist in Kogi State.
"It is our prayers that Almighty Allah in his infinite mercies, would forgive the sins of the departed soul and grant her Aljanat frdaus," the NUJ said. (vitalnewsngr.com)