Lokoja – Governor Yahaya Bello of Kogi State has enjoined Muslims in the state to use the period of Ramadan to pray fervently for the country and its leaders.
Bello made the call on Thursday in a congratulatory message he sent to the Muslim Umah on the commencement of this year's Ramadan fast.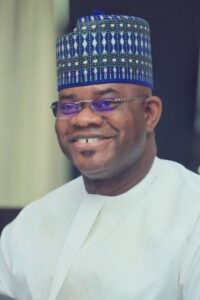 The governor urged Muslims to dedicate the season to pray fervently for the state and the country in general.
In the statement by his Chief Press Secretary, Onogwu Muhammed, Governor Bello charged Muslims to align themselves with the universal values of peace, kindness, love and respect for others which the Islamic faith promotes.
He noted that the Ramadan period which is globally revered should be utilised by Muslim faithful across the nation to pray for progress and peace while admonishing them to engage in good deeds and acts of Ibadah.
"I wish to congratulate the Muslim Ummah for witnessing another month of Ramadan and to wish them a blessed and peaceful Ramadan.
"The holy month of Ramadan, for millions around the world has always been an opportunity to renew and strengthen their faith through rigorous fasting, devout prayers, reading of the Quran, reflective meditation, and carrying out of charitable deeds.
"All these acts closely conformed to the universal values that the Islamic faith promotes namely, peace, kindness, love and respect for others", the Governor said.
 Bello called on all Muslims to devote more time to prayer and acts of charity as they similarly strived to improve their self-discipline motivated by hadith.
 
He further admonished that this year's  Ramadan which coincides with the transition of democratic leadership of the nation and many states should be used to pray for peace, unity and progress of the nation.
According to the governor, Ramadan is a time of spiritual reflection, self-improvement, and heightened devotion and worship, as followers of Islam were expected to put more effort into following the teachings of Prophet Muhammed (S.A.W).
 
Governor Bello then prayed for God to bestow on all Muslim Ummah good health to engage faithfully and benefit from the blessings of the season. (vitalnewsngr.com)