By Bridget Ikyado
Abuja – The Executive Secretary, Nigerian Christian Pilgrim Commission (NCPC), Rev. Yakubu Pam has bagged Icon of Most Outstanding Interreligious Harmony Award .
The award was presented to him in Abuja by the Aluta Media Limited, Publishers of Aluta news.
The publisher of Aluta news, Comrade Gambo Suleiman in his remarks, commended the NCPC boss for his selfless service in the areas of peace building youth empowerment and inter-faith harmony over the years.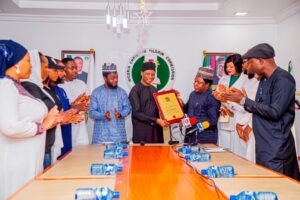 "The Board of Aluta news considered you worthy and deserving of the award for your contributions to the dignity of humanity regardless of faith," he added.
Gambo added that Pam had championed youth activities long before his was appointed executive secretary of NCPC.
"You are the founder of Young Ambassadors for Community, Peace and Interfaith Foundation.
"In 2007, you were a member of the United Nation Youth Assembly, you promote youth activities and we keep promoting people who have interest in the youth.
"The award was given first to the Sultan of Sokoto in 2021 and you for this year.
"You bridge the gap between interreligious affairs, Nigeria needs more people like you to be in the affairs of governances," the publisher added.
He pledged the support of the youth for him and the commission to succeed.
"That is why we have the leaders of Nations Youth Council and the Speaker, Arewa Consultative Assembly and the Aluta which houses over 150 online handlers all her for you today," Gambo said.
In his remarks, the NCPC boss thanked the group for the honour.
"The Publisher of Aluta news is well connected with the grassroots which explains why he was able to come with other credible youth-based organizations."
He commended them for keeping to the ethics of the media profession as online publishers.
"The Bloggers and social media are doing great, they are the ones speaking the facts that are hidden, they speak the minds of the people," Pam said.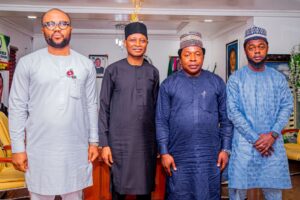 The executive secretary further said that Bloggers who are genuinely working for the progress of humanity and the country, should be supported.
He, however , decried the attitude of some bloggers who use their platforms to discredit the good policies of the government.
The NCPC boss also canvassed for support for the youth.
"I will advise Nigerians to support youths who are out for a genuine causes, so as to give them a chance to prove their mettle", he added.
Pam assure that the commission would work together with Aluta News to promote the country.(NAN/vitalnewsngr.com)