Okene – A large crowd of party supporters on Tuesday graced the campaign rally of the All Progressive Congress (APC) in Okene, Kogi State.
The campaign rally held to support the Presidential, National and State Assemblies candidates of the party was attended by a mammoth jubilant crowd at Agasa-Uruvochinomi Junction , Okene the Home Country of the state Governor, Yahaya Bello.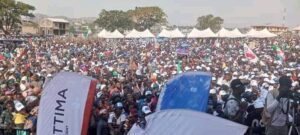 Party Stakeholders led by Gov. Bello took turns to address the crowd on the need to vote for the party's candidates at presidential polls, Senator Bola Ahmed Tinubu and his Vice Presidential Candidates, Sen. Kashim Shetima as well as other candidates of the party in the state.
They assured the people of more people-oriented projects if the All Progressives Congress APC is voted back into office.
Governor Bello while presenting the party flag to candidates thanked the party members and supporters for their loyalty, asserting that Nigeria will fare better under the APC administration.
He also maintained that the party will continue to ensure truth and justice in all its activities, saying it will mobilize party supporters and bring on board as many as they can into the party.
According to him, when the party comes back into power, the people of Kogi State will have a lot to benefit as projects will be attracted to the state in the overall benefit of the people.
Bello, who also canvassed votes for the party's Senatorial , House of Representatives and State House of Assembly candidates, saying that voters will not regret doing so.
The governor urged the people to give their total support to all APC candidates as they did in 2019 to ensure continuation in its programmes.
Speaking earlier the Director General, Kogi State 2023 Presidential, Senatorial and State Assembly Campaign Council and Chief of State to the Governor, Pharm. Abdulkareem Jamiu Asuku thanked the supporters while he assured that the party had presented credible and popular candidates hence the victory of the APC at the polls was guaranteed.
He added that it was time to ensure the presidential flagbearer, Asiwaju Ahmed Tinubu and his running mate, Kashim Shettima as well as other candidates are voted into office.
In his own remarks Director-General, Kogi Central Campaign Council, Abubakar Adagu, described Governor Yahaya Bello as a leader who is concerned about the well-being and growth of the party.
While acknowledging the governor's effort at transforming the state, he assured that all APC candidates will be voted into office for more dividends of democracy.
Adagu also commended the governor for being an exemplary leader who has produced men of proven integrity to lead, assuring of the people's support.