Lokoja – Dignitaries from all walks of life on Saturday in Lokoja attended the seven-day Fidau prayers for the late Alhaji Muhammed Karaworo Ahmed father of Dan Darman Lakwaja, Barr Naseer Ahmad,Sarkin Yakin Lakwaja,
The prayer which was led by the Chief Imam of Lokoja, Sheikh Muhammed Aminu Sha'aban took place at the palace of Maigari of Lokoja.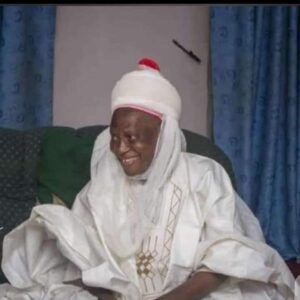 Among the dignitaries that attended the fifau paryer are Magajin Gari Lakwaja, Khalifa Ibrahim Kenchi Yabagi, Senior Son of late Maigari of Lokoja, Alhaji Ibrahim Gambo Kabir Maikarfi, members of Lokoja traditional traditional council ,led by the Hakimis and Chieftains of the ruling All Progressive Congress (APC).
:Others are Staff of Brodfield Hotel Abuja, led by Mr Mahdi Abdullah, Hakimi of wards A,B, Sarkin Noma, Ward C and chieftains of political parties, Shatiman Lakwaja, Alhaji Muhammed Mabo Kasim, Garkuwa Lakwaja, Barr. Katu Sule and many others.
Late Sarkin Yakin Lakwaja passed away on Saturday,November, 27, 2022 at the age of 97years and was buried same day in Kano.
Delivering his sermon,the chief Imam of Lokoja, Sheikh Muhammadu Aminu Sha'aban, cautioned those saddled with the responsibilities of leading the people to live a life of service to humanity, adding that the world is like a bridge.
Sha'aban described the late Sarkin Yakin Lakwaja, as a devoted Muslim and a community leader whose advise would be missed not by Lokoja emirate council alone but the entire Kogi state.
The Chief Imam who extolled the virtues of the deceased prayed Allah to forgive and grant him eternal rest.
In his remarks, Khalifa Arif Yabagi, admonished Muslims to emulate Alhaji Muhammed Karaworo .
According to him, everybody, irrespective of status will all be brought before God on judgement day on the basis of their deeds.
He added that only those who live a worthy life will have people who will intercede on their behalf for God to give them peace.
Speaking with Newsmen, representatives of Broadfield Hotel Abuja, Mr. Mahdi Abdullah described late Pa Ahmed as a father and very good man.
Abdullahi, who expressed condolences to the family of MK Ahmed, said the community and other members of the public will surely miss him and prayed Allah to grant him eternal rest.
Highlights of the Fidau Prayers include recitation of Holy Quran,led by the chief Imam of Unguwan Kura Central mosque, sheikh Abubakar Adamu, Malam Ibrahim Zakari and chief Imam of Kutepa Mosque, Malam Abu- Bilal.