Less than one month to the November 11, 2023 governorship election in Kogi State, the State Chairman of the African Democratic Party (ADC), Kingsley Oga, on Friday led other top members of the party to defect to the All Progressives Congress (APC).
The defection of Oga and other top members is no doubt a big blow to the governorship candidate of the ADC, Mr Leke Abejide who until now is seen as a serious contender in the coming election
The development on the other hand is a morale booster to the APC and its candidate in the election, Ahmed Usman Ododo.
To further put the ADC in a tight corner, the defectors also announced the total collapse of the entire structures of the party into APC
In addition, the defectors endorsed the APC governorship candidate, Ahmed Usman Ododo, pledging to work for his victory at the poll.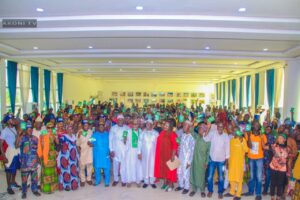 Among the defectors is the only ADC member, in the state house of assembly, Hon. Idowu Ibikunle, representing Yagba West State Constituency in the house.
Speaking, Oga affirmed his position as the state chairman of the ADC but noted that the ADC members in the state had decided to dump Abejide and work for Ododo.
According to him, among all the governorship candidates for the November 11 gubernatorial election in Kogi State, Usman Ododo, the APC candidate, is the most suitable for the seat.
He said a five-man committee was previously set up to assess all the candidates contesting the election, and that the committee's report concluded that Ododo was the right candidate to vote for in the upcoming election.
He emphasised the need to consolidate on Governor Yahaya Bello's achievements across all sectors, noting that Ododo would ensure continuity of this.
The former ADC Chairman commended Governor Bello for the remarkable achievements across the state during his seven-and-a-half-year tenure.
He also pointed out that, from what had been seen and heard about the APC gubernatorial candidate, he would undoubtedly perform well when he becomes the next governor of the state.
Hon. Idowu Ibikunle, representing Yagba West State Constituency in the Kogi State House of Assembly, said he contested as an ADC candidate and won his election.
He added that, despite being a member of the ADC, he and his supporters had all decided to vote for the APC candidate in the governorship election.
All three senatorial chairpersons of the ADC also spoke, affirming their commitment to mobilising their people in the ADC to vote en masse for the APC candidate. (viralnewsngr.com)