Governor Yahaya Bello of Kogi State on Tuesday in Lokoja inaugurated the state APC Governorship Campaign Council with a charge to members to make issues and the achievements of his administration as the focus of their campaign.
The Director-General of the campaign council, is the Minister of Steel Development, Prince Shaibu Abubakar Audu, while members were drawn from the 21 local government areas of the state.
Bello while inaugurating the campaign council also called on members not to preach ethnicity or religion but base their campaign on what the government had achieved in the last eight years .
He also charged them to delve on the personal qualities and ability of the governorship candidate, Ahmed Usman Ododo, to build effectively on the current administration's successes.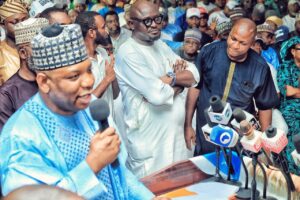 The governor urged members and supporters of the party  not to join issues with others who do not have anything to offer in terms of adding value to the state and its inhabitants.
"Forget about liars, whose stock in trade is thuggery with nothing to offer. Go out there and preach what we have on ground in terms of infrastructure, not about ethnicity.
"Kogi State belongs to all of us. I have always said that Kogi State has the potential to be great if only we stop playing politics of ethnicity.
"I want all of you to go and work for the success of the party and you will be adequately rewarded," he said.
In his remarks, the Director-General of the campaign council, Prince Shaibu Abubakar Audu urged voters to shun ethnicity and allow the overall interest of the state to guide them in their choice of the next governor of the state.
He said his late father who is also a former governor of the state, Prince Abubakar Audu never believed in ethnic agenda, but had clear vision for the growth and development of the state.
The Minister noted that in the last eight years, Governor Yahaya Bello had demonstrated his father's vision for the state through appointments, distribution and execution of projects across the three senatorial districts of the state without any iota of bias or sentiment.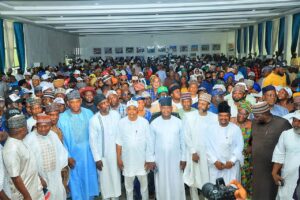 "My father had a pan-Kogi vision and was never a leader that focused on Kogi East.
"Any agenda that focuses on a particular senatorial district instead of Kogi State would not bring about justice, equity and development.
"We know that Igala people are agitating for return of power to the East but it must be discussed and resolved because power can never be taken with force," he said.
The event was attended by party members and supporters from the three senatorial districts of the state.
The off cycle governorship election will hold in the state on Saturday, November 11, 2023.
The APC is one of the 18 political parties that are fielding candidates for the election. (vitalnewsngr.com)