The risky long wait to attend to children's emergency and surgeries has been ameliorated by Kids Operating Room, KidsORs, with the provision of facilities in Nigeria's elite National Hospital in Abuja to boost successful operation of kids.
The installation of the two dedicated paediatric operating rooms with the assistance of KidsOR, a charity registered in Scotland facilitated the operation facilitated more than 1,348 paediatric cases in three years.
"In 2021, we operated on 494 patients that is children from various faculties and many of them paediatrics,'' Mrs Oyejide Adedoyin, Chief Nursing Officer and Matron of KidsOR at the Hospital, Abuja said.
She, said that 608 patients were successfully operated in 2022 and as at June 2023 more than 246 children had undergone surgeries in the hospital.
According to her, KidsOR started to equip dedicated paediatric theatres and training of paediatric surgeons at the National Hospital in 2019.
The programme at the hospital is part of initiative to ultimately provide more than 50 paediatric operating rooms annually over the next five years.
So far, Kids Operating Room theatres have already created capacity for 100,000 life-changing paediatric operations.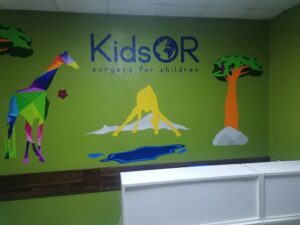 Mrs Adedoyin reported that at the time of KidsOR intervention in 2019, the unit was short staffed, especially of theatre nurses and anaesthetists.
"In order to meet the expectated high number of cases that comes with a dedicated theatre of KidsOR, we started pulling out nurses from the main operating theatres of the hospitals because the shortage of manpower was delaying surgeries and operations.
"We were also working late into the night to cope with volume of work with the little number of nurses and anaesthetists," She said.
She said that the fully equipped Kids operating Room, carved out as independent unit was able to secure seven additional theatre nurses, but we are still in need of more nurses and anaesthetists.
"It has been good having KidsOR to equip and supply materials to work for the Operating Room created exclusively to save kids and stop delays in attending to their peculiar needs, especially surgeries.
Presently we have cystoscopic, endoscopic and neurosurgery materials and equipment.
We still need some critical equipment which we have to source from the main theatre such as endoscopic and third ventriculostomy or (ETV).
We have been able to do diagnostic laparoscopic surgery with the assistance of KidsOR.
Although the project had been very helpful, but there were still challenges including poorly equipped ICU in the KidsOR unit.
"Some cases cannot be done in KidsOR because the ICU is ill equipped. We are still expecting a face-lift of the ICU.
"We still do not have some vital equipment, so we still have to book to use the hospital's main theatre which causes delays, especially cases of C-arm machine and ICU admissions.''
Generally, she also said that high surgery fee had made the facilities inaccessible to some kids and their parents.
"We appreciate the efforts of KidsOR, but we are appealing to it and other agencies, to come to our aid to uplift the noble objective of creating a special operating room and facilities for children.
"We are happy that in the last evaluation carried out by KidsOR was able to identify our weaknesses and strength and it afforded us the opportunity to ask for more equipment, and instrument.''
"We will appreciate if KidsOR can sponsor us for training programmes on paediatric projects within and outside Nigeria and also to encourage staff exchange for specific periods within locations where it has facilities across the world.
"This would ensure gaining more knowledge and exposure.
"The expectation is for us to be able to independently carry out separation of co-joined twins which the hospital first carried out in 2020, she says.
"We appreciate KidsOR because as you can see, our operating unit is a complete wing in the hospital to give us greater latitude to carry out the assignment which Kids Or is sponsoring," She explained.
Emphasising the importance of KidsOR, Prof Emmanuel Ameh, the Chief Consultant Paediatric Surgeon at the hospital, had earlier reported that the four main operating theatres in the hospital for all specialists have not been flexible to the needs of children.
"In case of an emergency, we had to wait two days in some instances. Every day there are three or four emergencies.
"We had three paediatric surgeons with one operating day meaning backlog for simple things such as hernia.
"The parents would get so frustrated and take the child to a hospital without proper equipment or skill then come back to us when things go wrong.
"Operating once a week also meant trainees could only access practical lessons once a week; hence they were not getting enough resources and ultimately resulted in them studying for longer.''
He said that with the installation of the two dedicated paediatric operating rooms, each paediatric surgeon now gets to operate twice a week.
This has helped cut down the waiting tome for both cases; major and minor surgeries.
"For the equipment it also meant us improvising. To keep the babies warm we used hot water in IV fluid sacks. We also had a radiant warmer which was too hot for the surgeons.
"It might sound unbelievable but we always had conflicts among surgeons, nurses, and anaesthetics. There were conflicts of improper tools which of course affected the efficiency of our work.''
The dedicated children Operating theatres also means that other specialities such as neuro, orthopaedics and ENT get to use the rooms ; of course, as long as they are attending to children.
"Previously, we could only take one major case per week but now we do four to six. For routine cases we do about 10 in a day. It has cut down waiting time significantly and improved the quality of our healthcare provision.
" Actually, now, it's parents who complain that the dates they are given are too soon,'' Prof Ameh reported.
The KidsOR initiative, he said, further meant anaesthetists and nurses were also getting experience and training which is key as having paediatric surgeons is not enough.
"If I could give examples of what the equipment donated with the renovations of the two paediatric theatres: A simple hernia surgery could take two hours because we were using adult tools but now 45 minutes to one hour is enough. This means we have more time to conduct more surgeries.
"Now we are able to do complex surgeries due to the KidsORs such as oesophageal atresia (is a birth defect in which part of a baby's oesophagus the tube that connects the mouth to the stomach) does not develop properly. A baby with this birth defect is unable to pass food from the mouth to the stomach, and sometimes difficulty breathing.
"For our trainees, they are now able to complete their learning in time and are getting the necessary exposure that they need.''
He also reported that they are still grappling with the lack of anaesthesia and nurses trained in paediatrics.
"Having one paediatric ICU bed would also make a significant change to our work especially for the complex cases,'' he said.
Aside the National Hospital in Abuja, KidsOR has also provided one operating theatre at the Armed Forces Specialists Hospital in Kano; two in Lagos University Teaching Hospital; and one at the National Orthopaedic Hospital in Enugu in partnership with Smile Train.
In collaboration with Ministries of Health, West Africa College of Surgeons (WACS) and other health bodies/associations, Kids Operating Room is working in the West and Central Africa region in an endeavour to meet its mission and vision.
KidsOR mission is to support local paediatric surgeons, through the provision of training and infrastructure, to ensure they can use their talents to care for their own nation's children.
They also envision a world where every child has access to timely, affordable, and safe surgery regardless of their social and economic background.
KidsOR' also pride itself in measuring the positive impact of dedicated children's Operating Rooms.(vitalnewsngr.com)