By Bridget Ikyado
Abuja – The Nikki Udezue Foundation on Wednesday empowered 25 widows in Jiwa community, FCT under its 'Widows Smile Initiative.'
The President and Founder of the Foundation, Mrs Nkiruka Udezue told newsmen st the event that widows, orphans and the downtrodden in the society deserved special attention.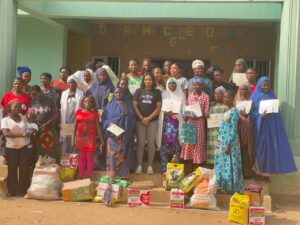 She said the foundation's vision was primarily to empower the underprivileged, especially widows and orphans.
"The foundation is empowering the widows in Jiwa with N750, 000 and food items of over N500, 000.
"I call on more well-meaning Nigerians to assist the vulnerable people in the country.
"If these women are empowered, it will give them courage to move on and lifts the family to be able to sustain the children that are left behind.
"We do hope to have follow up because for every widow we impact, we must come back here to see what they have done and how we can further assist them.
"Empowering the widows, the orphans, women, the girl child, is really my focus. The impact is to be able to give them a voice, give them encouragement. "she said.
Udezue said that the gesture was to put smiles on their faces and make them self-reliant.
The president advised the beneficiaries to make judicious use of the empowerment packages.
"I urge you, the beneficiaries to use the money and food judiciously because when I come back here in the next six months, I want to see you living better lives," Udezue said.
She said that the programme was deliberately scheduled for January after the New Year celebration so that beneficiaries would not use the money for the celebration.
Udezue while calling on other well-meaning individuals to use their wealth to touch more vulnerable Nigerians, urged the beneficiaries to utilise the cash and food items wisely.
In a remark, the Madaki of Jiwa, Mr Tanko Nuhu, thanked the foundation for the gesture and called on government to fund such foundations, who would in turn reach out to the people,
Nuhu who represented the District Head of Jiwa, called for more support for widows and other vulnerable individuals in the society.
"My advice to the beneficiaries is that they should invest rather than spend lavishly, we have heard attestations from other communities, so those empowered here should be self-reliant," he said.
One of the beneficiaries, Roseline Akhikpemelo, said the donation was timely and would be useful to them to cater for their families.
"When I lost my husband, life became very difficult for me, but with this empowerment, I believe my life will change.
"My children will go back to school and I will start up a business, I thanked the foundation," she said.
Another beneficiary, Otitoju Blessing, expressed happiness, saying the empowerment was an opportunity for her to be happy again.
The News Agency of Nigeria (NAN) reports that the foundation presented a house, food items and cash to Rosemary Oraza, a widow for starting up a business.
Oraza was living in an uncompleted building because she could not afford a rented apartment.
Items donated to the widows include bags of rice, cartons of Noodles, cartons of vegetable oil, yam, condiments and N30,000 each to start a business.( NAN/vitalnewsngr.com)