Abuja – The Federal Government said on Sunday that it had so far evacuated 1,471 Nigerians from war torn Sudan to Nigeria.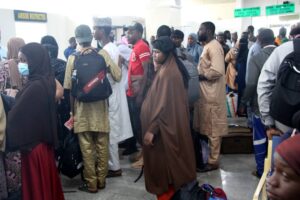 Spokesman of NiDCOM , Abdur-Rahman Balogun stated this in Abuja while given an update on the in going evacuation of Nigerians from Sudan.
He said the evacuees were brought in seven batches to Nigeria.
He gave the breakdown is as follows: First and Second Batches, Military Jet C-130 , 99 people , AirPeace Fight , 277 persons, making a total of 376 persons.
Others are Third Batch – Tarco Air, 130 persons, Fourth Batch, Tarco Air, 131 persons,
5th Batch , MaxAir, 410 persons and 6th Batch, Tarco Air, 102 persons.
"The 6th and 7th batches of Evacuees: 424 Nationals that departed Aswan International Airport, Egypt, landed at Nnamdi Azikiwe International Airport around 12:30 pm local time on May 7 as well as Tarco and Azman Airlines respectively.
"We await the arrival of Air Peace later.
"The good news is, no Nigerian life has been lost so far," Balogun said. (vitalnewsngr.com)