By Kassim Kola Adeyemi
Lokoja – Governor Yahaya Bello of Kogi State on Monday in Lokoja received a group of former members of the Peoples Democratic Party (PDP) from Igalamela/Odolu Local Government Area who have decided to join the All Progressives Congress (APC).
Led by former Caretaker Committee Chairman of Igalamela Local Government Area, Alhaji Abdullahi Ibrahim, Hon. Adama Sani and Aikoye Anu, the defectors pledged their support for
Ahmed Usman Ododo, the APC gubernatorial candidate, in the upcoming November 11, 2023 election.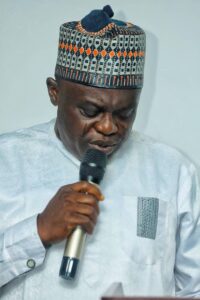 A statement from the Chief Press Secretary to the governor, Mohammed Onogu said the defectors are mostly from Ajaka Ward 1 and 2.
Other notable PDP members who have also defected to the APC included former President of the PDP National Youth Movement, Ahmed Mahmud, and Saidatu Ogohi, the Ajaka Ward 1 Women Leader.
While receiving the defectors, Bello expressed his appreciation to them for recognising the achievements of his administration and for their decision to join the APC.
He emphasized that the APC, being a progressive party, welcomes all individuals who are willing to contribute to the development of the state, assuring the former PDP members that they will have equal rights and opportunities just like the existing members.
Speaking on behalf of the defectors, Abdullahi Ibrahim explained said that their decision to join the APC was based on the remarkable achievements of the current administration, which have positively impacted all local government areas in Kogi State.
He specifically highlighted the rehabilitation of the Umomi-Akpagidigbo-Ugwolawo-Ajaka-Idah road, a significant infrastructure project in Igalamela, as a key reason for their support for Governor Bello and his party.
Abdullahi further mentioned that Governor Bello's accomplishments had led to an influx of opposition party members into the APC, saying that they could not afford being left behind.
Abdullahi expressed their readiness to work towards securing victory for the APC in the upcoming governorship election.
He praised Governor Bello and the APC for selecting Hon. Ododo Ahmed Usman as their candidate, stating that Ododo's seven years of experience in the current administration, coupled with his compassionate nature, made him the right candidate to sustain the developmental progress achieved by the present government. (vitalnewsngr.com)