Sakara was the music of one Adamu from ilorin; who entertained elites around Bamgbose Street,Lagos before Abibu Oluwa took it up,and developed his own version to greater admiration of Lagosians.
With the dual position of Lagos as Federal Commercial Capital and Centre of Excellence for black all over the world, Abibu Oluwa won the hearts of not only the Kings, Kingmakers,Lagosians but the entire black Africans with the knowledge and understanding of Yoruba or Inagot dialect.Even black Africans who were victims of 19th to 20th Century trade left the shores of West Africa to Portugal,France, Germany,Jamaica,United Kingdom,Canada,USA, Cuba,Brazil,Antilles, Australia,etc,with the memories and music of the greatest Sakara music maestro.Ever since, Europeans have turned Sakara music to jazz.Goje to the whites is known as violin,while molo in Sakara music is replaced by lead/rhythm guitar.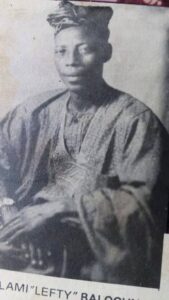 *Abibu Oluwa* started his musical career in the 1930s till his death in 1964 – rumoured to have been caused through *food poisoning*.The relations, members of late Abibu Oluwa,Sakara band and eminent personalities of Lagos thereafter held a closed door meeting and decided that *Salami Balogun*,the talking drummer,youngest in the band,who has the same voice and pattern of play like the late Abibu Oluwa should take over the band. Salami Alabi Balogun was the third son of Alli,and Rabiat Balogun born in October 1913 at Idumota Lagos,was enlisted in the Royal Army and participated in the war of Burma.It was in the Royal Army he had the knowledge of Carpentry, Watch repairs and Barbing. On discharging from the Royal Army, he worked briefly as a Carpenter with P.W.D – now Federal Ministry of Works – and later with Woodrow.Salami Balogun handled the large talking drum during his musical career under Abibu Oluwa. Other members of late Abibu Oluwa band included Idowu,Baba Mukaila, Joseph (Yussuf) Olatunji – among others,now dead. Salami Balogun as a drummer was unrivaled and was given names like Kokoro Kan Ilu Kan;One drum stick,One sound; One drumming, One pound; Lefty; Diamond etc.Infact, his first album was released in 1949 where he sang praises and paying tribute to his senior sister Ashiawu, the first child of Alli Balogun.Lefty Balogun was known as No 1 drummer of the era. His colleagues with PWD football team preferred calling him Diamond, being an attacker/goalkeeper.After the demise of late Abibu Oluwa,many other members deserted the old band,among whom are Joseph later known as Yussuf Olatunji (Baba Legba),Bameke,Idowu, Nosiru Ayeke, etc,leaving him with only Baba Mukaila on calabash.
Day by Day, the popularity of Lefty Balogun increased despite the absence of other old members, then he created the best sakare in the federation using the name Salami. Lefty Balogun became a household name with over 36SP, EP, LP records and live performances to his credit. Some of those who passed through the music legend of all times include: Kawu Aminu,Saka Olayigbade and Sikiru Ayinde Barrister Balogun.His records were released by Omo Aje Sound Studio at No.7,Ibomo Str. (off Agarawu Str.) Lagos, now baba Laje Music on ADLP 1036, ADLP 1003, ADLPS 1048, ADLP 1069, ADLP 1043, OLPS 0273, ADLP 1036, OLPS 0236, HNL, HNC, OSS, OLPS 0061 etc.even if the indigenous promoter reluctantly refuses to pay any royalty over the last twenty years on the reprints of his dependants.Salami Balogun performed the holy prigilmage to Mecca in 1975 and had over three dozen honorary chieftaincy title to his credit.Alhaji Chief Salami Balogun Lefty, a father of fourteen children namely: Amudalat, Lateef now Emmanuel, Rafiu (Deceased),Ibraheem, Jamiu,Bashiru,Bilikisu, Ganiyu,Kehinde (Deceased), Taiwo, Idowu,Alaba, Sherifat and Alhaji Mumuni, from six wives,gained wider recognition by performing his music in Yoruba, English,Hausa,and Tapa languages.Baba Federal was the Originator/Creator of Eko Sakara System.At a time he started writing his songs, planning to introduce sakara music in the universities.He was said to have been accused of using *Igunnuko masquerade* drumming never done before by any artist and also to have insulted eunuchs in one of his debut albums.These unfounded allegations he defended to no avail even if there were no video recordings of the musical instruments used for the records at the Emi Studio.The other was a mere story.Oh!, the harm was done.Thereafter,he fell terribly,sick and being diagnosed of various ailments from place to place.He departed this sinful worlds on Tuesday 29th December 1981.Lefty Balogun's death was said to have been caused by witchcraft attack just like that of *Olatunji Yussuf too*. Baba Federal left sakara music for those whore equal to the demands of millennium sakara music because the problems of sakara music commences from the unwillingness of multi-national music firms to promote local talents; to Sakara music having special attractions,class, people and study which young/modern promoters fail to identify;and also Saka music being seen as a low foreign exchange earner.
Since the death of the father of them all, Abibu Oluwa, other great artistes like *Samuel Aka, Ojindo, Yussuf (Joseph) Olatunji, Nosiru Ayeke, and the most talented Alhaji Salami Balogun Lefty,* there exists a great vacuum in sakara music circles at home and abroad.Over 80% of fuji music artistes are feeding on the works of Lefty Balogun.It is easily said that no fuji artistes rose to the top without the use, a re-mix or touch of the best sakara music in the Federation created by Alhaji Chief Salami Alabi Balogun Lefty, but they cannot play sakara music.The vacuum is now filled by the ever dynamic prince of sakara music Jamiu, one of the sons of late Salami Lefty Balogun who was trained/taught by his late father along with some of his junior brothers who have all vowed to keep alive the music of their father and Yoruba Culture in particular. ( Author Unkown)