Ogun – Police on Monday arraigned controversial Musician, Portable for assault and theft of musical equipment before an Ifo Magistrate Court in Ogun State.
Portable was taken into police custody at the weekend after failing to report himself within 72-hour ultimatum given to him by police.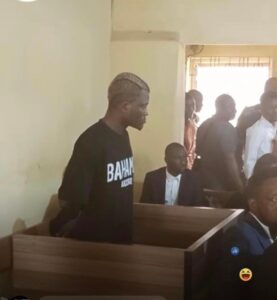 Portable in the dock on Monday
The 'Zazoo Zeh' crooner's saga began last Tuesday after he had resisted arrest by the police in Ogun state.
The singer argued that the arrest was "unwarranted," adding that he makes his money "legitimately."
The 29-year-old also referred to himself as "a federal government liability".
The magistrate court has however, granted, him bail. (vitalnewsngr.com)