Governor Dapo Abiodun of Ogun State on Saturday awarded scholarships worth N55 million to 550 indigent students from Remo Federal Constituency area of the state.
The students are the first beneficiaries of the Gbemiga Abiodun Education Scholarship Award scheme just instituted by the governor in memory of his late son, Gbemiga Abiodun, who died six years ago.
The scholarships cover pupils in primary and secondary schools as well as those in vocational and tertiary institutions.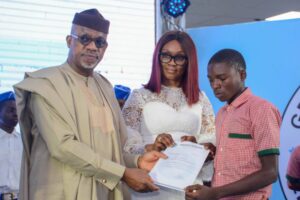 The scholarship was spread across all schools in its coverage area.
Speaking at the launch of the Gbemiga Abiodun Education Scholarship Award held at Iperu, Ikenne Local Government Area, Abiodun said the scheme will ensure that brilliant students and those whose parents could not afford to educate them, have access to quality education.
According to him, the number of beneficiaries will increase to 1,000 in the next 12 months, which will be the minimum at any given time.
He also promised that the scholarship would be extended to other federal constituencies in the state for maximum spread.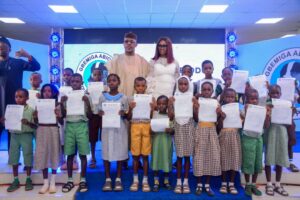 He said : "It is against this backdrop that my family came up with a scholarship scheme called GBEMIGA ABIODUN MEMORIAL SCHOLARSHIP AWARD, in memory of our son, Gbemiga Abiodun, which is strictly for indigent learners of Public Primary, Secondary Schools, Technical College and Tertiary Institutions, as well as Special Needs Learners within Ikenne, Remo North, and Sagamu Local Government Areas, to provide support to selected learners who are from the aforementioned local government areas of Ogun State.
"The Award is in two phases. The first phase is to be a Scholarship Award, designed for indigent and brilliant students while its alternative form; the second phase will be a Bursary Award for in-need but not necessarily brilliant indigent students whose chances of upward socio-economic mobility are probable with bursary support.
"This Scholarship award is designed for a period of three (3) years and within the age bracket of 6-25 years, and selection will be determined by the State Ministry of Education Science and Technology, using the Cumulative Promotion Examination Result obtainable from the OGSERA platform while the beneficiaries for tertiary institutions were recommended by their respective institutions."
The governor described education as the only light to the future of prosperity, development and peaceful co-existence.
He said the idea was conceived to celebrate the impactful and eventful life of Gbemiga Abiodun and all that he stood for while alive, adding the deceased lived a life of selflessness, consistency and scholarship.
"Olu, beyond his popular choosing career as a Disc Jockey had an unwavering passion for sound education, which he pursued passionately till God called him to be with him on that fateful day of 7th October, 2017.
"It is instructive to know that Olu's choosing career as a Disc Jockey was a product of his innate passion for music and rhythms at a very tender age; the passion he consistently pursued to the apogee," the governor added.
Abiodun who decried the low enrollment of girls in male dominated trades in Technical Colleges and Vocational Centres compared to boys, also regretted that despite the free education policy of his administration and students in higher institutions paying less, many basic school completers are hindered from proceeding beyond junior or secondary schools and acquiring tertiary education.
He called on the beneficiaries to make the best use of the scheme to better their lots, saying it is the best way his family could keep the memory of the deceased alive.
In her opening remarks, the wife of the governor, Mrs. Bamidele Abiodun, said the scheme is to " impart on the lives of the beneficiaries and their parents, especially at these trying times."
She expressed the hope that the scheme would achieve its purpose of bringing succour to the benefiting families.
Giving a brief on the Scheme, the Special Adviser to the governor on Education, Science and Technology, Prof. Abayomi Arigbabu, said scholarship is being sponsored entirely by the Dapo Abiodun family.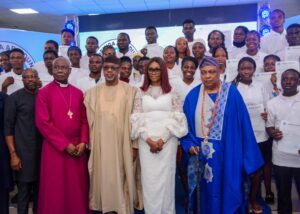 He explained that 200 learners from public primary schools would receive the sum of N50,000 each, to take care of their educational materials, 200 students from public secondary schools would get N100,000 for their educational materials, while100 students in tertiary institutions would be paid N250,000 each to take care of their educational needs.
Arigbabu explained further that a dedicated account would be open for beneficiaries in the primary and secondary schools to be disbursed by their head teachers and principals, while those in tertiary institutions would receive theirs personally.
Arigbabu, while thanking the governor and his family for the gesture, said winners were chosen by the Ministry of Education Science and Technology based on their academic records, using the Cumulative Promotion Examination Result obtainable from the OGSERA Platform while the beneficiaries for tertiary institutions were recommended by their respective schools.
(vitalnewsngr.com)