LONDON : Popular Sudanese actress Asia Abdelmajid has reportedly been killed in a crossfire in Sudan's capital,  Khartoum.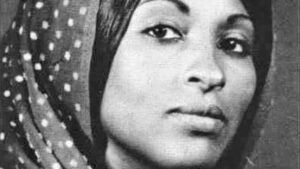 The circumstances surrounding her death in her home during clashes in the suburb of Bahri remain unclear, as fighting between the Sudanese army and Rapid Support Forces continues.
She was killed on Wednesday.
According to several sources, RSF forces have stationed themselves in residential areas across the city, carrying out ground attacks.
The Sudanese army, which has access to jet fighters, often attacks from the sky instead.
The RSF claimed on Wednesday that the Sudanese army had deployed the police's special forces unit, but they successfully resisted the attack.
Abdelmajid's family announced her death on Wednesday.
Due to dangerous circumstances, they were forced to bury her in the nearby kindergarten where she had been working.
Abdelmajid, who turned 80 last year, was famous for her theater performances and first came to prominence in the 1965 production of the play "Pamseeka."
The widow of Sudan's acclaimed poet Mohamed Moftah Al-Faitory, she was regarded as a pioneer of the stage and became the country's first professional stage actress before retiring to become a teacher.
"Pamseeka" was put on at the national theater in Omdurman to mark the anniversary of Sudan's first revolution.
Despite a ceasefire agreement, fighting continues to rage in many parts of Khartoum.
The International Committee of the Red Cross reported on Thursday that the country is close to collapse, with water and electricity infrastructure severely damaged and the health sector hard hit.
UN Secretary-General Antonio Guterres has called on the warring factions to stop the fighting immediately.(arabnews)