By Bridget Ikyado
Abuja (Bwari) – The Justice, Development and Peace Commission (JDPC) of Abuja Catholic Archdiocese, has called for a comprehensive policy to address shortage of potable water in rural communities.
Mr Josephat Abaagu, Chairman of the commission, made the call when he inaugurated a borehole provided by the commission for parishioners and residents of Kogo in Bwari Area Council of the FCT.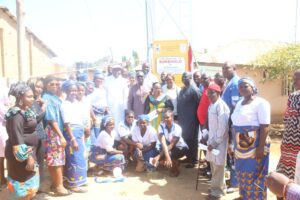 He said that government should draw up a comprehensive policy on rural water supply to encourage the provision of potable water to rural communities.
According to him, this will promote the common good, economic activities and the health of the people.
He said that the church decided to provide boreholes in parishes hard hit by water shortage across the Federal Capital Territory (FCT) to assuage their challenges.
Abaagu said that the projects were approved by the Archbishop of Abuja, His Grace Ignatius Kaigama to provide quality potable water to the communities.
"The projects are expected to complement government efforts as they continue to find ways of providing improved social welfare services in Nigeria and improve the livelihood of citizens.
"Water is life, it nourishes the body, improves life and healthy living, it also makes the difference in our society.
"There are also economic benefits in having water in a community," he said.
He advised the beneficiaries to maintain the boreholes and set up businesses such as fish ponds, satchet water factories and block making.
Abaagu said that the commission has been training women and youths in different fields such as baking, sewing,fashion and style, graphics and app design to empower and make them become self-reliant.
Mrs Mabel Ade, Technical Adviser of the commission, said that the water project would address "issues of seeking for water from far distance, exposing girls to many disease and dangers.
She added that it would also ensure that children attend school on time, instead of abandoning school to go in search of water.
The Parish Priest of St Elizabeth Catholic Church in Kogo, Rev. Fr. George Assigameh commended the archbishop and the commission for the gesture and assured proper care of the borehole.
The Parish Laity Council Chairman, Mr Godfrey Okomi and the Catholic Women Organisation President,Mrs Mary Kayode, in their separate remarks, said the project was a big relief for parishioners and residents of the community.(NAN/vitalnewsngr.com)