By Bridget Ikaydo
Abuja – Deaf persons in the Federal Capital Territory have urged the Independent National Electoral Commission (INEC) to conduct special enlightenment programme to educate them on the forthcoming elections.
They said that so far, there has been no programme to educate deaf persons on the electoral process, especially the new processes introduced by INEC for the elections.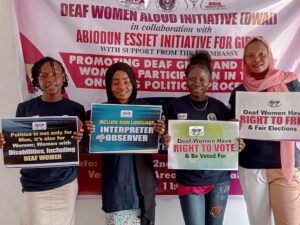 The deaf persons expressed their concerns on Thursday during a sensitization programme for deaf women on Voter Education and Mapping in Kuje Area Council of the FCT.
Mrs Hellen Beyioku-Alase, the Executive Director, Deaf Women Aloud Initiative, said the situation may likely disenfranchise some of the deaf people, if not addressed.
"We want government through INEC to include the deaf in the election exercise, to vote and be vote for.
"The programme on voter education is to enlighten many girls and women who do not have access to vote because of communication barrier.
"There are no interpreters; there are new processes introduced by INEC to be used to vote, but because of less information and interest to educate the deaf, many of them are reluctant to go out and vote.
"We have over 30 million deaf people and only a few vote; we decided to organise this on our own to sensitise them on the voting processes," she said.
According to her, INEC has so far shown low level of concern on the matter.
Beyioku-Alase, who is also the President, Deaf Women Association, said the deaf needed to exercise their civic responsibilities as citizens.
She also called on security agencies to protect deaf people during the elections, as they needed to be guided from harm.
Also, Anthonia Onda, Senior Programmes Officer, YIAGA Africa, who made a presentation on voter education, said the deaf needed information on what to do and how to go about it during the elections.
"We urge INEC to get sign interpreters to ensure they are carried along," she added.
She told the deaf people that they could vote, be voted for and act as agents for various parties.
Mr Shama Balami, Programme Officer YIAGA, educated the participants on the use of BVAS.
A participant, Godiya Akun said with the sensitization, she was no longer afraid to go out and vote.
She appealed to INEC to keep to their promises to ensure people with disabilities were given attention during the elections.
Also, Mrs Enuiyin Bose, a Counsellor, thanked the association for the enlightenment, especially on how people with disabilities would be carried along.
The programme was organised in collaboration with ABIODUN ESSIET Initiative For Girls, with support from the US Embassy.
It was aimed at promoting the participation of deaf girls and women in the ongoing political process.(NAN/vitalnewsngr.com)