Lokoja – A socio-political group in Lokoja, Kogi State, Omalites In Lokoja (OIL) has congratulated the member-elect for Omala State Constituency, Hon. Umar Yahaya over issuance of certificate of return to him by the Independent National Electoral Commission (INEC).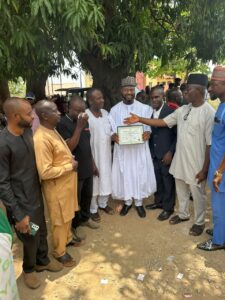 The leader of the group, Chief Halima G Abuh, while speaking immediately after the ceremony, congratulated the member-elect
and prayed God to grant him the wisdom to handle the mandate freely given to him by the
Omala people.
"We are here to show solidarity
to our own. We are here to congratulate Hon. Umar Yahaya and advise him to see this political feat as a challenge.
"We shall guide him and make sure he legislate for the benefit of our land. By the grace of God, we are optimistic that he won't fail us, " Chief Halima stated.
In his remark, the member-elect, Hon Umar thanked the group and other well-wishers for their
show of support and love.
He assured his constituents of his preparedness to bring up bills and motions that will transform the people, saying the overwhelming mandate given to him would not be toyed with.
Umar said the people of Omala in their love for him voted across the party lines and promise to dedicate the success to the people by working hard to change the ugly narrative starring people in the face.(vitalnewsngr.com)