Lokoja – One of the key gaps facing the agricultural sector in Nigeria is the inability to export quality standard required for the market success.
Mrs Amina Abdulmalik, the Trade Promotion in Lokoja office of the Nigeria Export Promotion Council (NEPC) made observation in a paper she presented to participants at a two-day workshop organised by the council.
The worksop holding in Lokoja, Kogi State, North Central Nigeria is themed " Export Market Access Awareness : Preparing MSMEs For AFCFTA " organised by the council.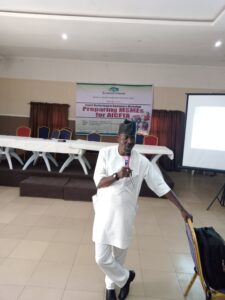 It is organised for Cassava farmers, merchants, and processors of Agricultural products in Kogi State.
Kogi State is the number of producer of Cassava and Cashew in Nigeria.
It is one of the series of programmes to ensure quality improvement projects undertaken by the NEPC to educate farmers and processors about adherence to good agricultural practices (GAP).
The overall objective of the Council is to see that farmers and processors produce quality products that conform to international quality requirements and standard, thereby enhancing agricultural productivity.
In line with this, Abdulmalik in her paper called on stakeholder's/key players in the Cassava production sector to abstain from wrong practices .
According the her, this is necessary to improve business efficiency resulting from good agricultural practices to propagate the consumption of Nigerian Cassava finished products.
She explained that they needed compliance support and management resources to compete globally, to be part of global supply chains and to grow into stronger enterprise.
" In this regard, we hope to work with the state government entities and business associates to enhance training and capacity building support, including the federal.
"I wish to assure you of the Council's commitment to ensure continued collaboration with stakeholder's/key payers to improve on the non-oil export performance.
The Trade Promotion Advisor expressed confidence that discussions at the workshop will contribute to further unlocking the pivotal role of the micro, small – and medium businesses in stimulating economic growth across Nigeria.
She also said it will help in creating decent jobs and helping millions of people escape poverty and improve their livelihoods.
Also in his presentation to participants at the workshop, Mr Sadiq Aliu, an Assistant Director at the NEPC , hilighted criteria to facilitate SMEs access to niche export markets.
Aliu spoke on supply chain, logistics information, marketing and sales planning among others.
He also took the participants through pricing system, export knowledge finance , communication, management and how to deliver on Corporate Social Responsibility (CSR). (vitalnewsngr.com)