Lokoja – Some youth and student groups in Kogi State, have pledged their support to the governorship candidate of the All Progressives Congress (APC).
The groups which pledged the support on Saturday in Lokoja include; the National Youth Council of Nigeria (NYCN), Nigeria Youth Parliament (NYP), Kogi state chapter, National Association of Kogi State Students (NAKOSS), National Association of Nigeria Students (NANs) and Association of Nigeria Female Students (ANFS).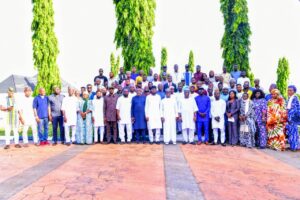 They pledge during a visit ti the governor st the Luggard House, Lokoja.
During the visit, the groups jointly expressed their willingness to support and ensure the victory of Ododo in the forthcoming November 11 , 2023 governorship election in the state.
They said their endorsement of Ododo was informed by the remarkable performance in office of Governor Yahaya Bello.
The groups said they were particularly impressed by Bello's achievements in the education sector.
RT. Hon. Ibikunle Adebayo Olajide, the speaker of the Kogi State Youth Parliament, who spoke on behalf of the groups lauded Governor Bello's exceptional performance over the past seven years.
He firmly expressed their believe in the continuity and consolidation of the present administration's achievements in the overall interest of the state.
He then pledged to mobilise their members and structures throughout the state to enlighten the public as the polls draw near.
Also speaking, Comrade Usman Ogohi Samuel, Chairman of the National Youth Council of Nigeria, Kogi state, expressed gratitude to the governor for his empowerment programmes,saying that Kogi as one of the few states with a well-established youth house in the country.
He assured Governor Bello of the youths' continued support and appreciation for his efforts in empowering the younger generations.
The Chairman also commended the governor for ensuring a fair and just distribution of state resources across the three senatorial districts.
Governor Yahaya Bello thanked the youth for their unwavering support and acknowledged that his administration transcends religious, ethnic, and other sentiments to address issues of deprivation and exploitation of Kogi State's resources.
He urged the citizens, especially the youth, to join forces with the government in confronting those who have been plundering the state's resources for personal gain.
Governor Bello emphasised the need to liberate the state from those who have denied the youth their rightful share of resources, which could have addressed unemployment and other pressing needs.
The governor affirmed that the APC candidate, Ahmed Usman Ododo, would continue the fight for the liberation of the state's resources and promised that Kogi would become the most prosperous state in the country under Ododo's administration.
Governor Bello assured the youth and student bodies that his leadership, within the limits of available resources, would prioritise their needs.
He reiterated his commitment to providing inclusive leadership, free from ethnic and religious biases.
(vitalnewsngr.com)