Nigeria's President, Bola Ahmed Tinubu says Nigeria is ready to attract investments that will propel the nation on path to success, enabling it to transcend Africa's current status and usher in a new era of development.
He stated this in Berlin on Monday, during the first panel discussion session, of the ongoing G20 Compact With Africa Summit, titled "Fostering Local Value Chains and Investment In Africa -The Role Of The German Private Sector."
President Tinubu urged for a deeper comprehension of African data, particularly that of Nigeria, following its high population density, saying this calls for a genuine commitment to establishing assembly plants, manufacturing various automotive components, and making full-fledged investments in Nigeria.
"The critical path to success is to be able to leapfrog from where we are today to the next generation of development and we are opening the door for all of that.
"We should continue to understand the data of Africa, when you look at Nigeria alone, the vehicular density of Nigeria calls for a sincere commitment to assembly plants, various automotive parts and full investment," he added.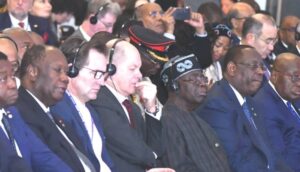 The President underscored the highly educated and energetic youths in Nigeria as a valuable human capital resource, that offers immense potential to attract investors.
He added that this presents a demographic advantage that incentivises businesses to make commitments in Nigeria.
The Nigerian leader vowed that with his commitment to upholding the rule of law, no investment will be lost in Nigeria.
He further pledged to seize the opportunities presented to Africa by Europe in changing the narratives of its economy.
"The energetic and well-educated population of youths in Nigeria is enough to attract investors into Nigeria also human resources is a great capital incitement for investors
"We are reforming the rule of law, we are adhering to that and we will continue to promote the opportunity given to Africa by Europe," President Tinubu added.
Also Speaking on the Panel, the President of Cote D'Ivoire Alassane Oauttara, said If Nigeria succeeds, the entire West Africa will thrive, he emphasized the need for trade partnerships among African countries.
Ouattara appealed to German enterprises to step ahead in terms of training locals of partnering African countries to advance production content.
President of Senegal, Macky Sall stressed the place of working hand in hand with Europe, saying Africa is ready to do business with Germany and the rest of the European countries.
He called for increasing access to the increasingly global market to advance the African continent.
The Host of the G20 Compact With Africa Summit, German Chancellor Olaf Scholz said in his message to German investors that the most important lesson is not to underestimate the potential of Africans.
Chancellor Scholz said that Africans are trying to be at the forefront of technology, he added that Africa is a place to transact in Foreign Direct Investment.
The CEO of Siemens Sub Saharan Africa, Sabine Dall' Omo, said Africa provides the opportunity to invest and develop new technologies.
She added that working with Africa will proffer solutions to most challenges facing the EU in the area of climate change.
"We will continue to be in Africa and we will make sure modern technology in infrastructure, rail, road, water, health and are available to change Africa's outlook," Sabine Dall' added.
Out of the 18 African countries attending the one-day Compact with Africa (CwA) summit, 10 nations, namely Egypt, Ethiopia, Benin, Côte d'Ivoire, Ghana, Morocco, Rwanda, Senegal, Togo, and Tunisia are CwA member-countries.
(VON / vitalnewsngr.com)