The first female Plastic Surgeon in Northern Nigeria, Dr Halima Grace Rabeh David, is dead.
She died suddenly on April 15 , 2023 at the age of 60 years.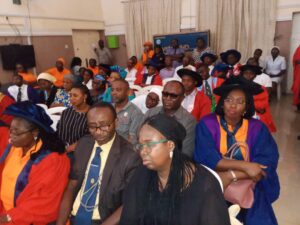 Late Dr Halima Grace Rabeh David was born on October 29,1962 in Kofar Yandeka in Kastina State to Mr and Mrs Rabeh Katsina both seasoned Educationist.
She was the second of three siblings and commenced her primary education at Kaduna Capital School from 1968 – 1974.
Dr Halima Grace Rabeh David obtained her Secondary education  between 1974-1979 at Government Girls College, Dalia Kano
instead of Queens College, Ilorin so as to be close to parents for supervision.
She also attended Katsina College of Art and Science, Zaria between 1980 — 1982 and Ahmadu Bello University, Zaria 1982 to 1987 for the MBBS degree.
She did her National Youths Service Corps, (NYSC), 1988 -1989. She subsequently engaged in further studies and researches, including Fellowship of the West African College of Surgeon in Plastic Surgery 1994 – 2004 at National Orthopaedic Hospital, Dala -Kano State.
The late surgeon became the first Plastic Surgeon in Northern Nigeria and commenced practice as a Consultant Plastic Surgeon at the National Orthopaedic hospital, Dala, Kano State.
She was involved in training others and retrained herself within and outside the country in Taiwan, America among others.
Dr Halima was married to Dr David Simon, an Orthopedic Surgeon.
Dr Halima took gardening and farming as pastimes. She is survived by family and friends: home and abroad.
Meanwhile, her professional colleagues at the
Medical and Dental Consultant Association (MDCAN), Federal Teaching Hospital, Lokoja and Medical Women Association of Nigeria, (MWAN) Kogi State Chapter have held a procession and testimonial in her honour.
At the event which took place at the Federal Teaching Hospital, Lokoja, colleagues, friends and family members took turns to eulogized her achievements and her life of service to God and humanity.
The Chief Medical Director, Federal Teaching Hospital Lokoja, Dr Olatunde Alabi, in his speech described Dr Halima Grace Rabeh David as a virtuous Woman whose sudden demise has thrown the surgical world into sorrow.
While describing the deceased as a big gain in heaven following her humanitarian service to the nation, and across the world, Dr Alabi noted that the late plastic surgeon was an epitome of humility, who was widely loved by all that had encounter with her.
Dr Alabi told people present to emulate the good virtues of the deceased, adding that, she would forever be remembered for her simplicity, humility, hard work and commitment to the work of God.
In his speech, Dr Ebune Ojochide, from the Surgery Department, Federal Teaching Hospital Lokoja, said the late Dr Halima Grace Rabeh David lived a fulfilled life while on earth.
Dr Ojochide, who lauded the deceased for her exemplary leadership while on earth said "Living a life worthy of emulation is what people should strive to achieve.
"She fought the good fight and died in the process, and she has been and will continued to be remembered for her selfless service to her country."
Also adding his voice, the Chairman , Medical Advisory Committee, Dr Ododo Bernard said the deceased was humility personified , adding that, Nigeria has lost a gem and a great Woman.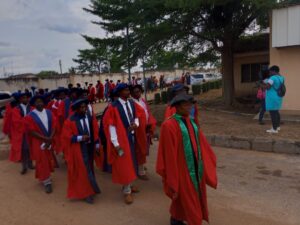 He charged the gathering to imbibe the positive life of Dr Halima Grace Rabeh David,
On his part, the Provost, College of Health Sciences, Federal University Lokoja, Prof. Mike Ogirima said the deceased was his class mate in 1982.
According to him, the deceased while on earth promoted the work of God and has won many souls for God.
The immediate past President, Medical Women Association of Nigeria, MWAN Dr (Mrs) Patricia Medupin who could not hide her tears recalled, that, the deceased was the first member to be lost in the history of the association in Kogi State.
Dr Medupin, further revealed the role the deceased played when MWAN was launched in Kogi State in 2015, adding that, she played an important role in sustaining the growth of the association.
Dr Medupin averred that, the death of Dr Halima Grace Rabeh David has brought sorrow and sadness to the association, just as she described her as a pillar who will forever be missed.
She maintained that NWAN is still in shock over the demise of Dr Halima Grace Rabeh David, urging the deceased family to take solace in the quality of life she lived.
Also speaking, the Kogi State Chairman, Nigeria Medical Association, (NMA) Dr Baoku Olushola lamented that NMA has lost some members in the last four months.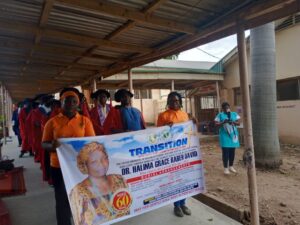 He described the death of the deceased as sad, just as he commended the family of the deceased for raising a Woman who helped changed the the lives of many in the world.
According to him, Dr Halima Grace Rabeh David leaved up to the oath of her profession, family, religion urging everyone to retrace their steps back to God.
Responding,, the husband of the deceased Dr David Simon described his late wife as the best woman on earth who lived with the fear of God and dedicated her life to the service of humanity.
Dr David described further described his wife as very sincere and a woman who sacrificed her life to God and humanity , saying that she projected the image of God while on earth.
The bereaved husband also admonished his colleagues to be prepared for their calling from God, just as he tasked them to run away from sins if they must make heaven on the last day.
(vitalnewsngr.com)