Abeokuta –  Governor Dapo Abiodun of Ogun State has showered encomiums on his wife, Bamidele, for her continuous support and role in ensuring the successful implementation of his administration's ISEYA program.
Abiodun spoke at the 57th birthday thanksgiving service of his wife held on Sunday at the Government House Chapel, Oke-Igbehin, Abeokuta,.
He said that her determination at ensuring his success as vovernor of the state has helped in filling the gaip as he serves the people.
He charged the congregation and the people of the state to deliberately live a life that touches others.
"I want to thank you for filling in the gap as I serve the good people of Ogun State.
"I want to thank you for your consistent prayers. May the Lord Almighty continue to protect and keep you under his shadow.
"Today is a special day of thanksgiving because my beautiful and adorable wife has added another year.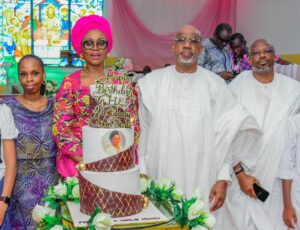 We are here to celebrate what the Lord has done for us.
"I want to pray that God continues to give you Bamidele unspeakable and everlasting joy. May you fulfil your destiny," he said.
Abiodun who also noted that days like his wife's birthday and thanksgiving are indeed worthy of celebration, added: "Days like these are indeed worthy of celebration, but at the same time, they are reminders that we have added one extra year and we have one less extra year left on this earth."
The governor, who also urged the people of the state to ask themselves the reason why God has created them, said that occasions like birthday thanksgivings are created not to only number our days, but to also give thanks to God.
In her remarks, the wife of the governor thanked God for giving her good health and sound mind, as well as holding her hands even in times of tribulation.
Bamidele, while noting that she would be intentional about how she lives her life from now on, thanked her husband for being her greatest supporter.
In his message titled; "Unquantified Thanksgiving", the South West Chairman of the Organisation of Africa Instituted Churches (OAIC), His Grace, Elder Apostle Jacob Adetokunbo Adeaga who read from the book of Psalm 103 disclosed that no man can ever quantify the level of the love of God in their life, saying that it is good to always thank God for His love in our lives.
Apostle Adeaga who also urged Mrs Abiodun to continuously thank God for His love in her life, charged her to continue to do more for God, the people and the state.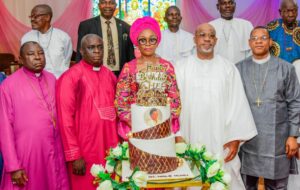 Adeaga thanked Governor Abiodun for his wonderful performance in his first term, even as he charged him to surpass that performance in his second term. (vitalnewsngr.com)